Welcome to Franconia Township!
Town Notices/Info:
*
Franconia Township Recycle Day, June 5,2021, 8:00am - Noon
click here for details and printable flyer

*

FRANCONIA TOWNSHIP PUBLIC ANNOUNCEMENT NOTICE:
What updates do you want to see on the Oseola Bridge?
What's your vision for the bridge?
MnDOT and WisDOT want to hear from you!
As part of the project's Environmental Assessment, the agencies are asking for your input on the purpose and need statement. This document is used as a guide to evaluate alternative improvements and eventually select a preferred option.
Visit the project website to review and commen on or before Friday, June 4, 2021
*
Franconia Township Board Meetings -
Join Zoom Meeting - click here
Meetig ID: 329 465 1796
Passcode: 2021

*
See Calendar below

*

Letter with Information re: the Emergency Address Signs that have been installed in Franconia Township - click here for Letter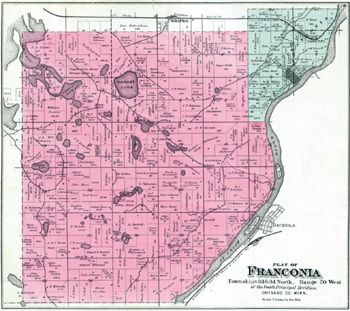 Franconia Township Board Meets on the 2nd Tuesday of each month at 7:00pm, at the Franconia Town Hall.


NOTE: Driveway Permits are now handled by Dennis & Lee. It is no longer handled by the County. For Driveway Permits contact: Lee, 651-257-8291.